Help
---
---
Locating an ISBN
What are ISBNs?
International Standard Book Numbers (ISBNs) are distinctive 10-digit codes used to identify a particular book. These codes and numbers are used to identify the exact item you wish to buy or sell.
How to Identify ISBNs
You will find the ISBN packaging and/or back cover of your book.
Do not include hyphens when entering these numbers. However, if the 10-digit ISBN ends with the letter X, be sure to include it.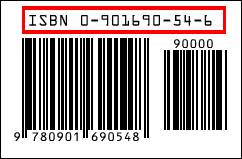 close window
---
Wholesale Textbook Pricing
The Greener Bookstore works with textbook wholesale companies to secure additional copies of used books, or books that may not have been available during our campus buyback period. We also work with textbook wholesalers to help us buy more textbooks from Evergreen State College students when Evergreen State College instructors haven't specified a certain textbook to be used again the following semester. We rely on textbook wholesalers to purchase these books from students and for redistribution to other universities that are using the text. However, as there are costs involved with wholesalers, those texts are typically bought back at a lower "wholesale" rate (which are most often lower than our standard buyback rates).
---
Tips on Searching for Textbooks
At The Greener Bookstore, you can easily locate textbooks by using our outstanding search functionality. The most unique and most effective way to locate your textbooks would be to search by course. However, The Greener Bookstore also gives you the option to search using the ISBN, the author's name or even the title of the textbook. If you choose to search by ISBN, make sure you type the 10 or 13 digit number correctly, without any dashes. If you choose to search by Author, we suggest you specify only the last name from the Author's name. For example, conduct a search for "Smith" to find all titles by Jonathan Smith. If you choose to search by title, we suggest you specify exact wording of the title. This includes the use of articles such as A, AN, AND, and THE. When searching for author or title, if an exact match is not found, the closest match to your criteria will display.
---
Tips on Searching for Merchandise
If you have a specific product in mind, you can easily find it by entering its name or a word that describes it in the global search box at the top of your screen and selecting "Merchandise" from the drop-down menu. To get the most results, search "Merchandise" for a single word. For example, entering "sweatshirt" will return all items pertaining to "sweatshirt". For more specific results, search for two or more words and select "Merchandise" from the drop-down menu. For example, typing "red hooded sweatshirt" will return all items pertaining to "red hooded sweatshirt". Further refine your search by clicking "refine your search" on the search results page and selecting departments in which to search.
---
Tips on Searching for General Books
If you have a specific book in mind, you can easily find it by entering its title, author or ISBN in the global search box at the top of your screen and selecting "General Books" from the drop-down menu.
---
Textbook Conditions: Like New, Very Good, Good, Poor
Like New - To be used only when the book is in the same immaculate condition to which it was published. There can be no defects, no page tears, no highlighting, no missing pages, no library stamps, etc., and the dust jacket and/or cover must be perfect, without any tears or scuffs.
Very Good – A book in very good condition has clearly been read but is in fantastic shape. The book may have a few scratches and show some minor signs of wear or other cosmetic blemishes, but generally has very little to no highlighting or markings.
Good - Describes the average used textbook that shows some small signs of wear. A used book is considered in good condition even when it contains highlighting, margin notes, or other markings (with the exception of study guides, which must be clean). However, books must be generally clean in appearance with no torn pages and with the cover or dust jacket intact.
Poor - Describes a book that is sufficiently worn, to the point that its only merit is as a Reading Copy because it does have the complete text, which must be legible. This copy may be soiled, scuffed, stained or spotted and may have loose joints, hinges, pages, etc.
---
Learn how we stock used books.
The Greener Bookstore stocks a complete inventory of new and used textbooks, specifically for Evergreen State College. Our used textbook stock primarily consists of textbooks purchased during our buyback programs. However, if we do not get enough supply from buyback, we must order additional used inventory from a wholesale supplier – supplemented with new textbooks from the publisher. This is just another reason why it is important for you to sell your textbooks back to your local bookstore. By selling your books back to The Greener Bookstore, you help make sure used textbooks are available for other Evergreen State College students at the most reasonable prices possible.